Facial Aesthetics
Minimal downtime with our safe injectable treatments. Please enquire about consultations regarding anti wrinkle treatments and skin boosters to make you glow!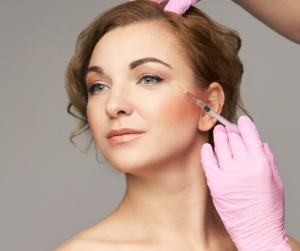 At Impressions Dental Care, we want to boost your confidence, working with you to go beyond creating a healthy perfect smiles. We create treatment plans, designed specifically for each patient for their unique requirements and desired treatment outcomes. All consultations and treatments are undertaken to the highest levels of professionalism, discretion and clinical care.
Facial aesthetics treatments are designed as non-surgical methods to refresh your skin, providing you with long-lasting results.
As we age, unwanted wrinkles, folds and lines can to show up on our face. Many external factors leave signs and irregularities on the face and skin surface such as:
facial expression habits (squinting, frowning etc)
dental habits (such as tooth grinding)
sun (UV damage)
pollution
lifestyle habits such as smoking and alcohol
dehydration
However, it is the natural aging process that most drastically and predictably effects the underlying layers of skin structure over time
Contemporary facial aesthetic treatments can help and can even prevent future lines and other signs of aging.
For all aesthetics patients, we will undertake a friendly comprehensive consultation enabling us to create a treatment plan specifically designed for each patient. We check your medical health, discuss what you want from treatment, over what time frame and how we may achieve that. Various treatment options and costs are discussed and we will explain the most beneficial treatment for you.
Each treatment plan varies, because every patient is unique and the plan is tailored to the individual.
Treatment offered:
Muscle relaxing injections/wrinkle reducing injections
Botulinum type A toxin is injected into your skin of your face and neck (using a very fine needle) to block nerve impulses, relaxing specific muscles causing lines, wrinkles and discomfort caused by movement over time
When used early, it can be preventative in future wrinkle development and active in treating current lines
Results often last longer with subsequent treatments due to muscle weakening
It is an affordable, quick and easy treatment
Treatments available with Botulinum Toxin A:
face muscle-relaxing injections (1-3 areas)
Isolated Brow lift
Bunny lines
Nose tip and flare
Treatment of "gummy smile"
Nefertiti lift/neck platysmal bands
Hyperhydrosis (excess sweating) and migraine
We use Botox® or Azzalure® (dependant on treatment needed).
Hyaluronic Acid Dermal Fillers
Dermal fillers are used to improve the volume, shape and definition of your lips, giving you a more youthful appearance and the confidence to smile. Lip fillers, or lip augmentation is a non surgical treatment to replace lost volume and improve the appearance of thinning lips.
Dermal filler is a sterile gel consisting of stabilised hyaluronic acid, a naturally occurring substance which provides volume and fullness to the skin. When we are younger, skin naturally produces greater levels of hyaluronic acid, keeping the skin fuller, hydrated and elastic. Using dermal filler restores lost volume, creating definition and a more youthful appearance
Lip augmentation involves re-contouring and enhancing the fullness of thinning lips improving shape, volume and definition. This involves adding dermal filler to the lip borders and lip body to achieve your desired result.
Anyone concerned about thinning or deficient lips can have lip fillers to increase volume. Lip fillers can be used to balance your appearance if either the upper or lower lip is reduced. Anyone unhappy with an asymmetrical lip line can have fillers to give a more even look.
Results typically last Depending on the injection technique, skin type and your lifestyle, the results typically last between six and eighteen months until they start to fade away and a repeat session is required